We flew into Santo Domingo from which it is a three-hour cab ride to Samaná on the north coast where the boat was lying. The problem with DR is that you are not supposed to drive the roads at night. We were landing at 3:45 and the sun goes down at 6:00 pm so it would be close if we were going to make it to the boat. Fortunately, the customs clearance was backed up so it took 2 hours to get out of the airport. The trip to Samaná would have to wait until morning so we found a 5-Star hotel in Santo Domingo called Marriot Blue Mall. It was culture shock. Not because it was third world but quite the opposite. Santo Domingo is a city of 2 million people and it has high rise condos and fabulous restaurants and night life. It was more like Madrid than a Caribbean island. We dropped our bags and took a cab to "Zona Colonial" which is the old city that Columbus founded in 1493. As you know by now I am a Columbus fan and it was a thrill to see where Columbus' ships stopped and anchored in the river and founded the city. We had a great dinner and walked the old city, which we were planning to tour in the morning. The next day we met a guide and everything lived up to my expectations. We even went to Columbus' tomb which was bizarre since we went to his tomb in March is Seville Spain. So either they separated his remains or the two countries are fighting over the Admiral of the Ocean Seas' remains and fame as a tourist destination.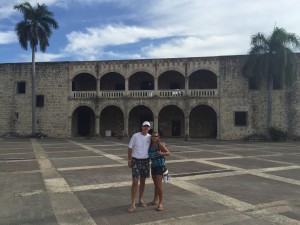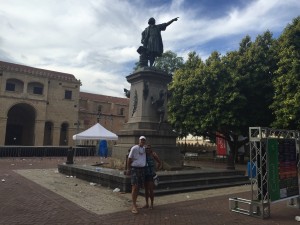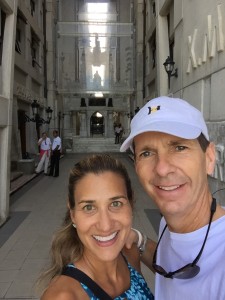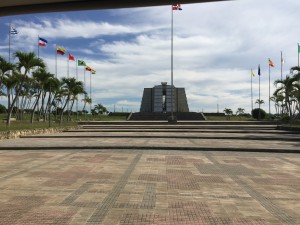 Formula One thrill ride
The cab ride to Samaná was notable since I couldn't even look. The road for 100 miles is covered with livestock, motorcycles and pedestrians and the cab driver felt that the faster he went the best chance of not hitting anyone. Seriously they must not have personal injury attorneys on that island or the driver would have slowed down.
Samaná sleigh ride
We left at 6 am and had a 75 mile run to Cap Cana which is the only marina on the east end of Dominican Republic. It was calm and clear. A perfect Caribbean day if you are heading east. We arrived at 5 pm right when the Commandante closed the marina but we entered anyway and promised not to break any laws until morning.
Storm Prep
We spent two days getting the boat ready for the storm of kids and grandkids that would be joining us for 5 days to celebrate Thanksgiving. We had 8 of us on the boat and it was beaching, dining, and not without incident!
Land Lubbers
When the kids arrived we spent time paddle boarding, flying the drone and skurfing. We enjoyed the area and especially the "Scape Park" which is a Disney-esque adventure park with ATV's ziplines, caves and blue holes for swimming. We recommend Cap Cana marina for taking a break from the Thorny Path and getting some R & R although it is not your typical boating destination since the coast is rough and there are no harbors to visit. You are basically in the marina or you are heading to Puerto Rico across the Mona Passage.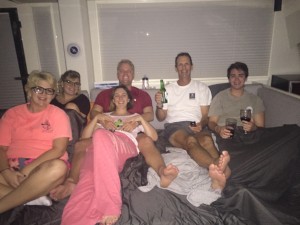 What Broke…
The shore power cord burned up and caused damage to the components which required a day of ordering parts and getting them delivered from Santo Domingo.
We crashed the rental golf cart against a wall. It happens.
Our water main broke at the dock sending thousands of gallons into the water. I hope its not on my tab
The guest stateroom AC wouldn't shut off. At least that is a good problem as opposed to not turning on
We got stung by a swarm of wasps. At least none of us were allergic so just pain but not life threatening.