The order for our Leopard 48 was placed in August of 2014 with an estimated delivery time of eleven months. It showed up on June 22, 2015 after being put on a container ship in Cape Town, South Africa, delivered to Tortola, BVI, and sailed to Ft. Lauderdale. We may have set a record with the Leopard dealer and closed on the boat immediately so we could use it on the Fourth of July!
There remained about six weeks of extensive commissioning which included: water maker, solar power, tender, rigging, electronics, satellite communications, stereo, underwater lights, custom lighting, mattresses, bedding, cushions, window treatments, safety equipment etc. etc. etc.
Once everything was complete, we departed on a four-night cruise down to the Florida Keys to see how all the gear and equipment performed. The cruise began with sailing from Fort Lauderdale to Miami. We arrived earlier than expected so we headed into Biscayne Bay and south all the way to Pumpkin Key. This island is located just west of Ocean Reef Club and Angelfish Creek. We had a great first night at anchor and barbecued our dinner. Unfortunately, we had to go inside to eat due to the mosquito attack we endured when the sun went down.
The next day we left early to catch high tide through Angelfish Creek and picked up a mooring at John Pennekamp reef to test our new scuba equipment. After a great dive and lunch we headed north to Ocean Reef Club to stay at the Marina. Once tied up, we launched our tender and spent a few hours cruising all the hidden creeks around north Key Largo.
On day three we headed back to Miami with plans of going into the Miami Beach Marina. However, something went wrong. As I approached the slip the boat wouldn't do what it was supposed to. It was surreal. I put the boat in reverse and gunned it but the boat kept moving forward. I became convinced I had done something wrong so I tried again. At that point the boat spun sideways and we were moments away from crashing into a 150' yacht. We tried to get the marina staff to come help but no one responded to our calls. Finally, I figured out that no matter what I did the starboard motor was stuck in forward and wouldn't go into neutral or reverse. When I got that through my head I turned the engine off and was able to easily dock the boat on one engine. Keep in mind that this was all compounded by a major squall that had just come over us with 35-knot winds. Although they had calmed a bit when we hit the marina it was still blowing the boat around while docking. After all that drama we showered and headed out to Smith & Wollensky's steakhouse on South Beach for some well deserved wine!
The last day we headed north to Fort Lauderdale and stopped a mile out for another practice dive. It was tricky because the current was ripping. When there are only two of you and you both are in the water it's important that you don't let the current get you away from the boat or you have big trouble. So after entering the water we decided to swim forward and descend down the mooring line. Once there we spent 30 minutes doing small loops of about 50' and then back to the mooring line. We weren't taking any chances. The dive went great and after lunch we packed up and headed back to Bahia Mar Marina to organize the boat. The shakedown went well and only a few items broke.
The holding tank. (bad thing to break. Smelly)
The stereo. (didn't actually break but realized the entire system needs internet to operate and there is no internet at sea. Big mistake)
The gear shifter. (easy to fix with a screwdriver which I did the night it broke)
The Microwave (the circuit breaker was to small, easy fix)
The AIS (ship identification system, very important)
The Escape hatch under the boat. (defective and wouldn't close properly)
Light switch in guest stateroom.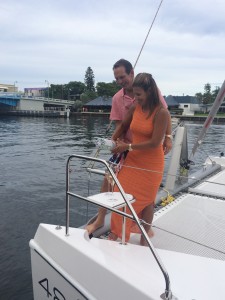 All of these items were addressed and corrected by Leopard Catamarans and Just Catamarans (our outfitter) within 2 weeks.
Next trip is the big one where we leave Florida headed to the Caribbean – but not before our amazing Christening Party at Kaluz restaurant in Fort Lauderdale.
Check out my video of this trip below.