Our departure day finally arrived after a year of preparations. We planned on heading out on September 1st from Port Everglades, and almost caught a curveball with tropical storm Erika approaching. Luckily, everything worked out perfectly as Erika turned north away from Florida leaving behind perfect weather for crossing the Gulf Stream. Keep in mind, hurricane season runs from June through November and it's not the time to head to the Caribbean. Why did we choose this time? Two reasons. First, the boat took a year to build and it arrived in July. The closing for the boat was done offshore with no Florida sales tax because it was leaving the USA immediately. This means we had to leave from Florida within 60 days.
The second reason is the well-deserved name for this 1200 nautical mile trip to the Caribbean – the "Thorny Path". Heading east into the trade winds means wind on the nose and pounding seas – the opposite of the direction you ever want to sail. There are two months per year that the trade winds settle down or subside all together and they are August and September. So with that in mind, and a good Lloyds of London insurance policy which includes Hurricane coverage, we set out behind one storm and hoping not to see another.
We left at 6 AM from Fort Lauderdale with our fist stop in Bimini. The trip was flat calm and uneventful so we just blared the tunes, cooked breakfast and took turns working out on our TRX straps. We reached Bimini early enough to anchor near the north end of the island and scuba dive on the famous "Bimini Road". This is an underwater phenomenon that looks like a submerged ancient road with massive stones placed in a way that it would seem nature couldn't have done. We anchored, prepped our gear and jumped in. After searching around for 30 minutes we didn't see one boulder. There goes another example of my bad dive navigation. Both of the charting software systems had us right on it. I was still determined to find it so we returned to the boat and boarded the dingy with snorkel masks to search for it. We drove around for 15 minutes with me putting my head in to look and we couldn't find it anywhere. On the way back to the boat suddenly we realized it was 20 feet from the back of the boat but the visibility was bad we couldn't see it. Oh well. We saw it from the tender and drank several beers to celebrate.
That night we went into Resorts World Marina and had a good dinner and played blackjack and craps at the casino. This is a theme you may notice about us. We are not "dirty cruisers". Although we are as comfortable as anyone in flip flops and shorts at a beach bar we won't miss an opportunity to gamble and dress up for the trendiest restaurants. We call it "sailing chic".
The next morning we left before sunrise and saw an amazing launch of a rocket from Cape Canaveral that entered space above our heads. We spent the next two days motoring east in flat calm seas heading to Nassau and Atlantis Marina with an overnight at Chub Cay. One of our favorite things about anchoring in remote locations is watching stars, which look like they are falling on your head when you are in the middle of nowhere with no ambient light.
Atlantis Resort on Paradise Island is where we arranged to meet some friends on their boat and travel together to the Exumas. We also had friends flying in for the gathering so we all partied at the Cain Pool, met for dinner at Nobu and gambled in the Casino. The next morning we left for the Exumas – but not until a mechanic came to help me flush the coolant out of our starboard motor. The engine began to overheat on the trip to Bimini. I could not determine why this was happening since they were new motors, and we had run them for several hours with no problems. I decided to flush the coolant as a starting point.
Around noon we departed Paradise Island heading for our first stop at Shroud Cay. Again the motor began to heat up so we had to slow down. I called the Yanmar engine tech support and they suggested that the heat exchanger may need to be removed and serviced. It later turned out that I had caused the problem. When you add coolant to an engine you have to add the same coolant that was in there before. If you add green coolant on top of red coolant there is a problem with the mix and it turns to jelly – stalling your heat exchanger. Live and learn.
We spent the night at anchor at Shroud Cay and had an amazing dinner of Cuban style pork and homemade black beans. Now this isn't something we actually whipped up in the galley (although we do make a 5-star breakfast) but Lennie's mom, who is an amazing chef, agreed to make us some full meals we could freeze and bring with us. Lasagna, ginger chicken, pork, etc. It was like eating in her kitchen! I didn't know how good frozen homemade food could be. And this started a new opportunity in our cruising plans. Lennie and I (who are not great in a kitchen and proud to admit it) have always attempted to cruise in areas where there are restaurants or beach bars to eat at so we didn't have to cook on board. This new boat has a great galley and is easier to cook and clean, so we figured we would learn to get better at it. But now with her mother cooking the food and freezing it we have all options. Restaurant or eat on the boat same great food! In fact the second leg she outdid herself with some new options. Thanks Mom!
After Shroud Cay we motored south to Staniel Cay. We spent two nights with our friends there and did all the normal Staniel Cay sights – swimming pigs, Thunderball grotto, Racheal's bathtub, the sharks at Compass Cay.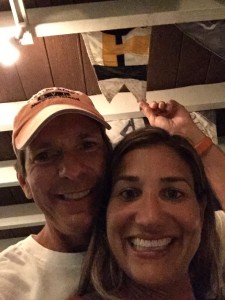 Good times. Also I finally got my drone flying and took some amazing video of the anchorage and the marina where our friends were. After two days we said goodbye and they headed back to Atlantis to return to the States and we headed south since our intended destination was Emerald Bay Marina near Georgetown, Great Exuma.
This would be the final leg of this trip and we had to cover 75 miles. We decided to run down to Farmers Cay and go out that cut so we could avoid 20 miles of wind and waves on the nose (although they weren't much). When we got near Farmers Cay we checked the Raymarine charts and they showed all shoals around the area and one small channel we should fit through. We had to alter course around these shoals and work our way up to the deep part of the cut. As we got closer to the island between these two reefs we began freaking out since the depth sounder said it was six inches under our keels. That is so skinny that I was afraid we would hit bottom and be stuck in a place where you can't call for help. We kept inching forward and got right adjacent to the island and ¼ mile from the deep-water cut, but we couldn't go any further as the depth sounder went to zero which meant we were essentially aground. Now these depth sounders are adjusted to the bottom of your boat so if it says zero you assume a thump is the next thing you will hear. After we backed off we pulled out the cruising guides and paper charts. Both said that our original route would have worked. The cruising guide gave the name Terry Bain as a guide that can help you in the harbor. We called him on channel 16 and no answer. Then we called him on the phone and the person on the other end said he is busy. I explained that we were on the banks stuck in shallow water and needed help so she put him on right away. I gave him my location and he said that it was completely wrong. He told me to go all the way back from between the two reefs (backtracking 2 miles going 3 knots took a long time) and to head out further and then cut in at 90 degrees and aim for a two story house on the south end of the island. I told him I couldn't do that because the Navionics chart says its 2 feet deep and that is the reason I tried the other way. He kept telling me what course to steer and that my chart may be wrong. WTF! I am on a million dollar boat with $40,000 of electronics and I am listening to a guy sitting in his house who can't see me because he is on the other side of the island and I am supposed to trust him?
We were out of options. Turning around and going back to Staniel Cay would have been a 40-mile delay. Listening to the "Mayor" of Farmers Cay seemed like our best shot. So… we lined up, all stressed out after 1.5 hours of screwing around by this island, and we headed in on his mark. As we moved forward we held our breath and watched the charting software and the depth sounder with rapid eye movement AND looking at the ACTUAL compass! Compass? I haven't steered a course with a compass since I was a kid sailing in California and chart plotters hadn't been invented yet. Sure enough we kept moving forward and we could see the deep blue water at the edge of the island and the depth sounder said we had 2 feet of water beneath our keel and guess what….we went right over where the chart said 2 feet deep and brown color indicating a reef. The Mayor was right. The chart was wrong. In fact the chart for that area was completely wrong. The Mayor stayed in radio contact with us monitoring our progress and we high-fived when we reached the deep water. It was then that I asked the Mayor for one small favor. I mentioned that we hadn't fueled up in Staniel Cay since we left early, and that we were making for Emerald Bay and felt our fuel was a tad low and asked if there was any fuel on Farmers Cay. He said the closest fuel dock was Staniel Cay or Emerald Bay (LOL). However, if we dropped anchor in the bay and took our jerry cans to his house he would give us 10 gallons of diesel out of his generator tank. I am not making this up.
So we anchored, lowered the tender, got our gas cans and headed for the rickety looking dock in the harbor. Once there we were directed to Terry's house up on the hill. When we got there we thanked him profusely for helping us get in the harbor. He took me to a shack outside and he opened a very old 55 gallon drum and stuck a hose in it and siphoned off 10 gallons for my cans. He even got a mouthful of diesel which didn't seem to bother him much. I would have been airlifted to Jackson Memorial Hospital! I asked how old the fuel was and he wasn't sure. After looking at it I decided we would just keep it in the jugs as reserve. We settled up and headed back the boat and out the inlet to the ocean. We had avoided going aground, took the easier route, got the reserve fuel and finally were offshore headed south with 40 miles to go. The trip was great and not too rough, and we entered Emerald Bay Marina with plenty of light to spare (or about 20 minutes – another theme for our trips).
In Emerald Bay we secured the boat well, as we would be leaving it there and flying home to work for a few weeks before the next leg. I still had to figure out how to remove the heat exchanger. I tried the yellow pages in Georgetown and could not find one diesel mechanic. So I looked at Lennie and said "the only difference between me and a diesel mechanic is they know what to do". So I got in the engine room and read the manual and removed the core of the heat exchanger and packed it in my luggage to fly it back to Florida to be cleaned out.
Emerald Bay is great! We used our electric bikes to cruise around the community and the golf course. We had a great dinner at the resort nearby and went through our departure checklist which is actually a big thing when leaving your boat for weeks at a time. Our list includes safety, security, maintenance and storm prep. It takes about 3 hours to get it all done.
The last thing I did was look at those gas cans with the Farmers Cay fuel. I asked the dock attendant if he would mind donating that diesel to anyone who wanted it and filling up the cans with 10 gallons of "fresh" fuel. He came in a golf cart and took it away and came back just before our cab pulled up. He said "hey mon, I couldn't use that fuel so we have to charge you to dump it. Good ting you didn't put dat in your tank as your motors would've been ruined!" Well at least it gave me comfort to know it was there while my tanks were nearing the red line as we pulled into Emerald bay!
What broke
The heat exchanger
The tender lifting blocks
See the video for this trip below.